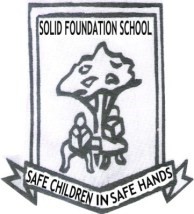 Solid Foundation started as a day care center, with an aim to assist busy young, city mothers who did not have enough time to parent.
It was started by the Mothers Union in Kigali Diocese. The center became a better option than leaving children with maids and television. The children were loved and given all the attention they needed and reached a point, where children would cry when parents came to pick them up.
As numbers of children grew, there was need to provide for their early childhood education so Nursery began and today we have all the three services: Day Care Center, Nursery and Primary and we have just had our first Primary Leaving Candidates. Children are taught, trained and socialized in an acceptable, loving environment. We are children of the Mothers Union and Part and parcel of the Kigali Diocese.
VISSION:
To be the best foundation learning center in East Africa. Providing age appropriate, life lasting academic, social and spiritual knowledge.
MISSION:
To set firm foundation academically, socially and spiritually through competence-based teachings and learning from one another and the environment.
SCHOOL MOTTO:
SAFE CHILDREN IN SAFE HANDS
CEFORMI is a Vocational Training Centre which belongs to the Anglican Church of Rwanda/Kigali Diocese. It is based in Gikondo Sector, Kicukiro District in the centre of Kigali City. The centre has been operating for 38 years now. The major concern of CEFORMI has been to empower disadvantaged youths with vocational practical skills that help them easily earn and uphold their living.
The disadvantaged groups on target include poor children/youths between 15 and 24 years of age who missed out on their formal secondary schooling; orphans, children of unknown parentage, street children, drug consumers, young sexual workers, unmarried mothers, and other young people who want to develop their talents.
So far CEFORMI has 8 trades, including Masonry, Carpentry, Tailoring, Welding, Plumbing, Electrical Services, Culinary Art &Hospitality and Hair Dressing & Aesthetics. We provide both technical training and life skills such as Behaviour change, trauma counselling and healing, Entrepreneurship, etc…